Leh Palace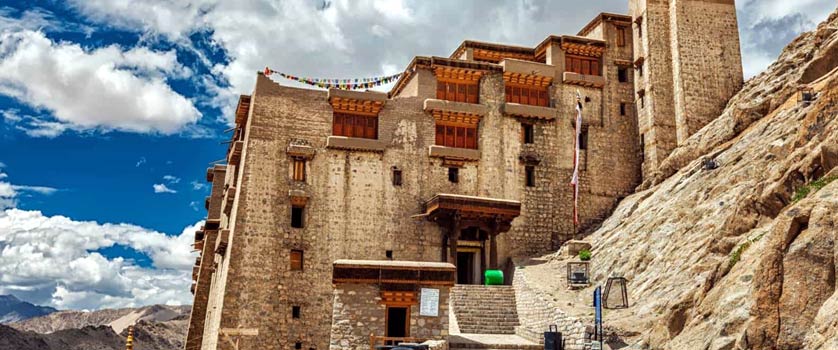 During your tour to Ladakh, make it to Leh and visit the imposing Leh Palace that was once the official residence of the royal families. Built during 17th century by King SenggeNamgyal, this nine storeyed palace overlooks the Himalayas and is among those places to visit in Ladakh from where you can enjoy panoramic views of the Leh town.
Though it was later abandoned as the royal family moved to the Stok Palace, it still boasts of its rich and diverse history. Resembling much to the Potala Palace in Lhasa, Leh Palace now houses a museum that has numerous collection from the past. Traditional attires, jewelleries, ancient paintings, murals, and several other antiques are on display in this museum. A visit to this historic palace will take you back to the royal era of Ladakh; it is one of the most exquisite and best tourist attractions in Ladakh and is included in almost all the Leh Ladakh tours.
A Visit to the Palace
The Leh Palace that at present serves as an office of Archaeological Conservation Organization of the government of India remains open for the public from 7.00 AM to 4.00 PM. Entry fees per person for Indian citizens is Rs. 15/- and for foreigner nationals is Rs. 100/-. As the place is in the lap of the mountains, the best time to visit is during the summers from April to September when the weather remains pleasant and sun rays glitter up the mountain ranges thus ensuring eye catching panoramic views making the trip one of the most enjoyable and memorable one.