Thikse Monastery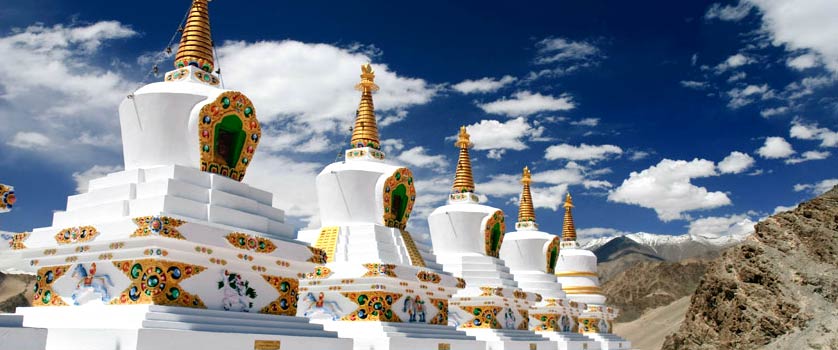 Among the many things that Ladakh is famous for, one are its monasteries. If you have been to Ladakh, you know what I'm talking about. Those lovely structures perched on outcrops, giving an air of timelessness. If you haven't been to Ladakh, then it's worth knowing that the monasteries in Ladakh are fascinating places to visit. One of such monasteries is Thiksey Monastery, located at an altitude of almost 3,600m in the Thiksey village. It's one of the largest and most famous monasteries in Ladakh.
The Thiksey monastery, painted in red, ochre and white, blends in well with the surrounding landscape. On first sight, you will be surprised with the strong resemblance it bears to Potala Palace in Lhasa in Tibet. Visiting the monastery, which houses several attractions within it, can be a rewarding experience. It offers excellent opportunities for sightseeing and exploration. If you have been planning a trip to Ladakh, then this Thiksey monastery travel guide will tell you all that you need to know about the monastery.
History of the Monastery
You may have often wondered about the history of Thiksey Monastery and why is it called so? According to the popular tale, Jangsem Sherab Zangpo (a 15th century Tibetan Buddhist monk), along with his disciple, Palden Sherab, were offering prayers with a ritual cake at a spot which was located about 3km from where the Thiksey Monastery today stands. Out of nowhere, to their surprise, a crow grabbed the cake and flew away with it. After searching for the cake for some time, they found the ritual cake placed at the top of the hillock, in exactly the same condition as before.
The Buddhists believed this to be an auspicious sign, and decided to build a monastery at that very spot. The name of the monastery, Thiksey, which means "perfect order", is derived from the perfect order in which the crow placed the cake.